3B Stratus 5 Oxygen Concentrator
If you are undergoing therapy for COPD or any other diagnoses that requires daily oxygen treatments, the 3B Stratus 5 Stationary Oxygen Concentrator is an affordable, unobtrusive machine. It is equipped with four 360-degree swivel wheels that make moving it around you. home effortless. It weighs approximately 15.5 pounds (or 7 kilograms). This is roughly the same as a common house cat, 2 gallons of water, or a plastic bag of groceries. Thus, the Stratus 5 is light enough for most people to move around. What's more, it is virtually silent.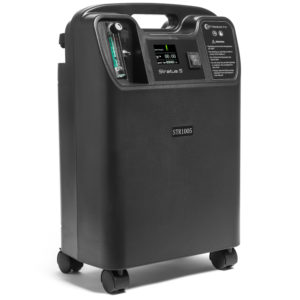 Ultra-Silent Operation
Subsequently, this is one of the salient features of the Stratus 5. Yes: it is truly ultra-silent—more so than the other appliances in a typical home. For example, decibels are used to measure the intensity of volume. Thus, the Stratus 5 has an operating volume level of approximately 55 decibels, which is about the same as a typical refrigerator in a home. This is quieter than the volume of a normal conversation, which is about 60 decibels. Thus, it is a great machine for those who are sensitive to noise pollution or are hearing impaired. Finally, it is easy to clean and operate because it has alarms and other easy-to-read codes and purposeful symbols. For example, the control panel of the Stratus 5 features an LED Oxygen Monitor. It is not only easy to see and read, but displays current oxygen purity levels. If the light is green, this means that plenty of purified oxygen is being delivered. If the light turns red, an alarm goes off. This means your oxygen levels are dropping and you need to address an issue with abnormal temperature, low flow, or perhaps power failure.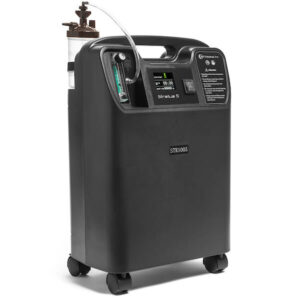 Purified Oxygen 24/7
The 3B Stratus 5 Stationary Oxygen Concentrator works by taking oxygen from the air within the environment it is placed in and turning it into purified oxygen. It delivers up to 5 liters per minute of continuous flow oxygen. Plus, it can operate 24-hours day without costing you a fortune in power bills. It is energy efficient, and uses 320 watts of electricity per hour. This is less than a typical stereo receiver and most kitchen appliances. Furthermore, it is very easy to clean.
Easy to Maintain
The 3B Stratus 5 Stationary Oxygen Concentrator is easy to clean. The filter should be cleaned at least once a week to maintain the highest level of oxygen purity. To do so, simply remove the intake cover and sponge mesh filter. Then, rinse the sponge with clean water. Set it aside and let it air dry. It should take around 30-45 minutes to completely dry. After it is completely dry, place the filter back inside the Stratus 5. Then, simply re-attach the cover.