KN95 Mask, Face Shields, Surface Disinfectant, Hand Sanitizer, No Touch Thermometers. Southeastern Equipment and Oxygen stocks a huge variety of PPE supplies to protect yourself and your family.
Protect Yourself, Protect Others
With the onslaught of the COVID-19 pandemic, it has become increasingly important to protect yourself. No matter your age, gender, or occupation, you are most likely to find yourself in a situation where you are required to use Personal Protective Equipment [PPE]. Thus, Southeastern Equipment & Oxygen has a full range of PPE to help you minimize exposure hazards at home and at the workplace.
What is Personal Protective Equipment [PPE]?
PPE covers a range of products designed to help lessen exposure to diseases and to help minimize personal injury. PPE is often worn on the body. Personal Protective Equipment includes nitrile gloves, KN95 masks, safety glasses, and face shields. However, other types of PPE include hand sanitizers, no-touch thermometers, and surface disinfectants. In fact, any
product that is used to combat injury and illness is considered PPE. As a result, Southeastern Equipment & Oxygen is stocking all kinds of PPE. If you are uncertain or have questions about PPE, please call our Customer Support Team at (800) 653-6888. We will be happy to assist you.
Protection in the Workplace
Social distancing isn't enough. Consequently, many companies are supplying their workers with Personal Protective Equipment. Choosing the right PPE for your employees can be overwhelming and expensive. For example, there is a major difference in cost, function, and applicability between the disposable surgical masks and the KN95 reusable carbon filter masks. Thus, it is important to learn which PPE's are best for you. Employers are expected to train their workers to know when it is necessary to use PPE. Furthermore, workers may find personal protective equipment burdensome and uncomfortable. That is why it is important to train workers on how to properly use PPE. This includes how to wear it, adjust it, take it off, and dispose of it. Finally, it is important to get the most life out of
the personal protective equipment you possibly can. Therefore, workers need to learn how to care for PPE and maintain it. Whether you are an employer or a worker and have questions about using PPE in the workplace, Southeastern Equipment & Oxygen is here to help you. Please call our Customer Service team at (800) 653- 6888. We can help you put together a PPE plan for your workplace.
Protection at Home
Sure, personal protective equipment is regulated in the workplace. However, today's new normal includes protecting yourself at home. For example, if you or one of your family members are infected with COVID-19, it is important that you properly disinfect your home. Without properly cleaning and disinfecting of your home, it is possible to "re-catch" some viruses. Therefore, do not underestimate the importance of PPE's at home. Thus, it is always a good idea to have plenty of surface disinfectants on hand. Southeastern Equipment & Oxygen has a range of disinfectants
and sanitizers in stock.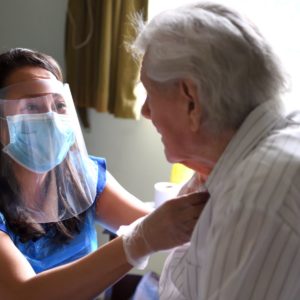 Peace of Mind
Don't let the new normal bring you down. Personal protective equipment not only minimizes your risk of contracting infections, but also gives you the confidence you need to go about your daily routines without the burden of worry and anxiety. Thus, let Southeastern Equipment & Oxygen supply you with the PPE that best suits you in your time of need. Please call our Customer Support team at (800) 653-6888 to speak to someone about your specific needs. Remember: we are here for you.